June 2018
Siberian "North", familiar from premium class aero boats, in April this year began to produce
a new type of technology for myself - all-terrain vehicles.
All terrain vehicles Siberian brand "North" by the type of their aquatic brothers got a brand "Sever Trucks".
The decision to start production was made quickly, but deliberately - properly functioning workshops and constantly growing opportunities suggested expanded use and, already understandably, this search was crowned with success.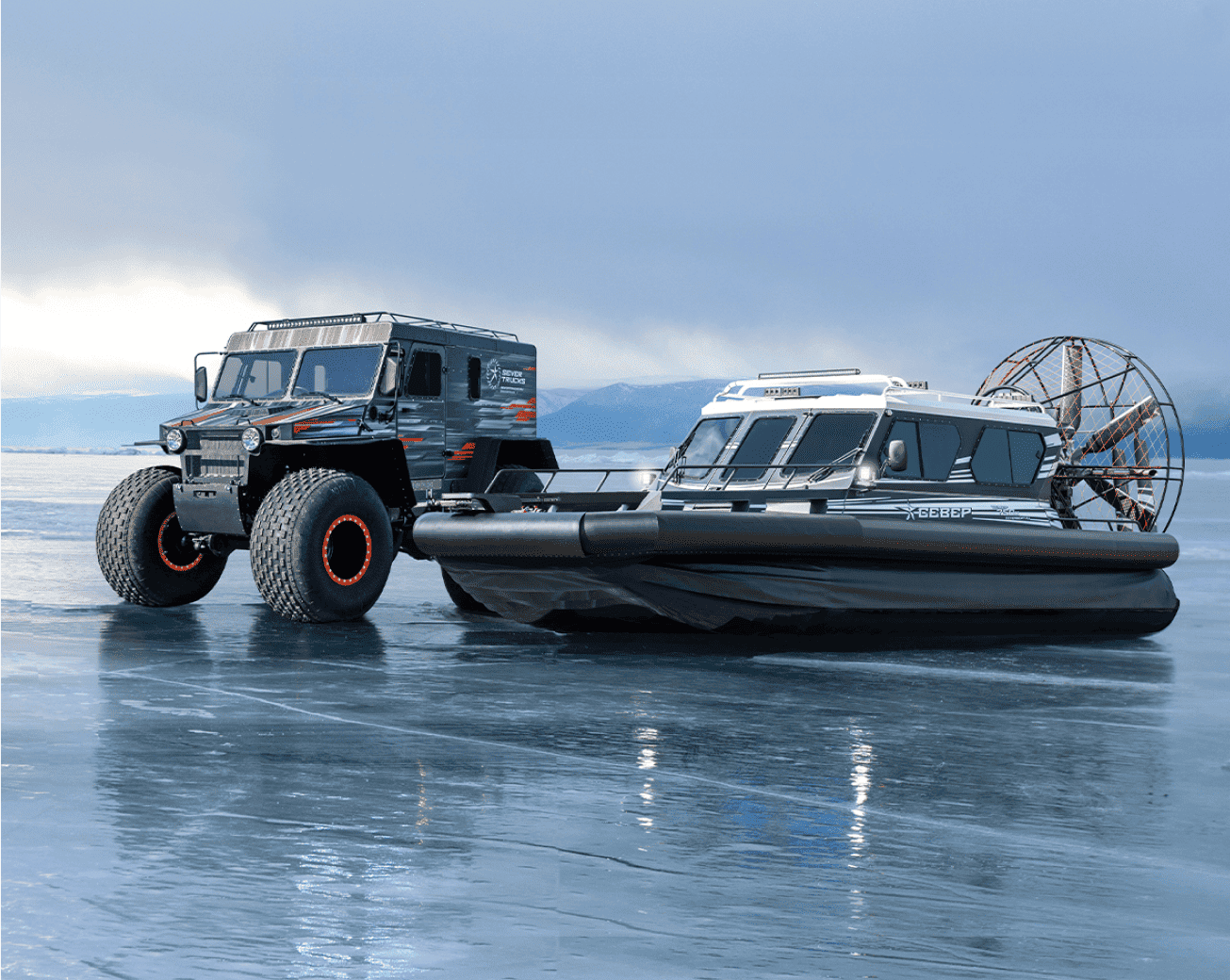 For those interested in extreme tourism, recreation in the wild and serious hunting, this is a gift and a comprehensive solution to a number of problems. All models are equipped with low pressure tires that are able to tackle any surface: from mud bumps to insane mountain climbs, from swimming down the river to loose snowdrifts. To confirm these words, the all-terrain vehicles passed the final run-in in the Stolby reserve. With a capacity of 3 to 6 equipped people, the cars boast a flow rate of 15-20 liters per hour for two tanks of 70 liters each. In the already presented trim levels there are options
with both diesel and gasoline fuel system options.
On average for the models, the body weight fluctuates within 2000 kg, which does not interfere with the dispersal of these "monsters" up to 80 km / h on the highway... On the Internet, motorists are already posting videos with the corresponding names and you should not blame them for this: to see a car in the stream 3 times higher and one and a half times wider than yours, which also goes to overtake - this is a good story even for a distant
from the extreme tourism company.
Вoff-road vehicles "SeverTrucks" appeared suddenly, but have already become the pride of our automotive industry. How long have we been seriously discussing a product made in Russia with a steering wheel and wheels, and we were not ashamed of it? The equipment has been developed and assembled from scratch in the workshops of Krasnoyarsk, and the first orders are already being sent to the country.
But we must not forget about the issue of security. The team assures that build quality and increased quality controlinherent
their aero boats were fully transferred to the land transport project. With documented test drives
you willingly believe in it.
This year, at the specialized event "Hunting. Fishing. Hobby" "SeverTrucks" greeted guests at the entrance to the exhibition center. Perhaps, due to the impressive dimensions, the three five-meter heroes simply did not fit inside the pavilions,
but even so, they managed to steal attention from their direct relatives. Residents of Krasnoyarsk were able to personally see quality factor and showiness, and, traditionally for all equipment "North", sign up
for a test drive... Judging by the data, this proposal is a success; today there is a queue of applicants.