North 750K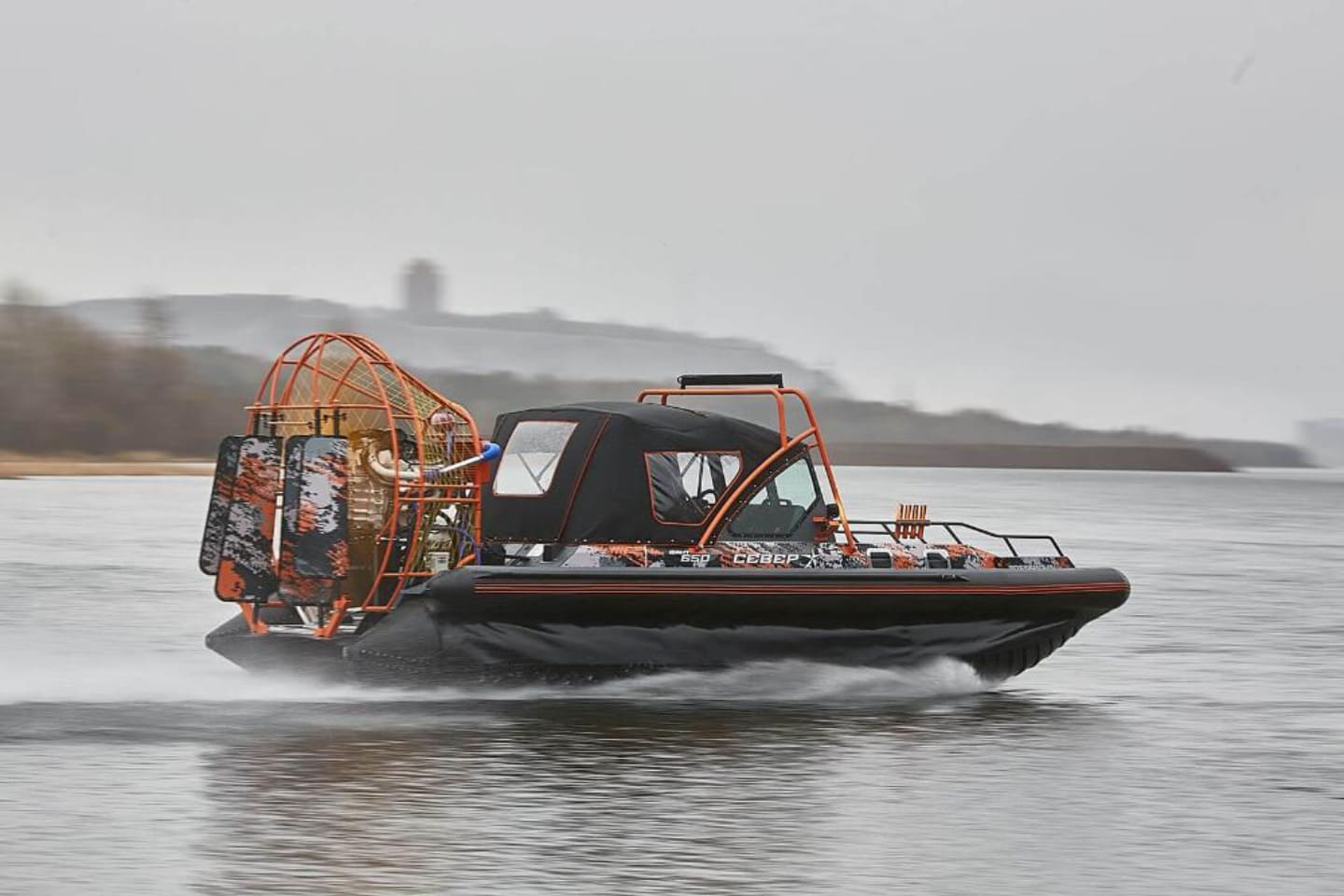 Let's look at the legitimacy of such a loud statement.
Boasting a loan is a dubious thing, but it is important to dig deeper here, because the matter is in the specifics of the property. Water transport,
and especially the airboat, the representatives of banking organizations are not delighted - this technique is included in the list of increased risk. We agree to give a loan for a seven-meter unit weighing a ton, which, according to the assurances of the creators, also drives on water and ice
at a speed of under 150 km / h is not the most reliable investment.
To obtain the consent of leasing organizations for such a risky undertaking, the manufacturer needs to prove the reliability of the equipment.
Here you can rely on the "premium class" prefix, which is used by "North" in relation to all models.
Premium is not leopard-print seats and jazz-style drawers with expensive champagne (although the company likes unusual orders with individual requests). First of all, such a word implies unprecedented reliability, which is provided by the assembly of everything and everyone in the local workshops.
Over the years of the company's existence, not a single buyer has suffered due to negligence in assembly or dubious quality of materials,
and the percentage of scrap of the parts themselves tends to zero.
The lender believes in statistics, such indicators are a powerful argument.
There are still questions to the organizations that allow to acquire such a dangerous, from their point of view, equipment. Partner of Krasnoyarsk air boats
and all-terrain vehicles under the leasing program has become a major player in this market, which already has 70 branches in the most economically developed cities of Russia. Today this means that the buyer is not limited in the geography of choice (recall that the equipment is delivered throughout the country and even beyond its borders) and has a number of programs and package offers to choose from.
But who is this customer? Fishermen, hunters and extreme tourists are just the tip of the target audience of airboats.
Often government and commercial organizations become buyers: rescue services, coast guards, industrial fishermen and companies providing supplies to settlements cut off from the mainland.
This broadens the understanding of leasing, gives scope for variations in its reading by other companies. Until recently, we watched
to the rattling cathars collected by craftsmen in their own garages, and could not think that this technique is capable of anything more than an advantage in fishing. Today, with a serious approach to business and already accumulated experience, we have obtained a company capable of
complete with a visual level of performance, provide a technically complex solution, an absolutely serious technique
to meet a variety of needs for a wide variety of clients. Here and now.
It seems that "North" has once again confirmed its own slogan and overcame another difficulty
It will be useful to remind that now the Okhotnik airboat in the Comfort configuration is being sold at the base price. And the equipment is an important and expensive business, by analogy with good cars. A good reason to get acquainted with the technique on a test drive!