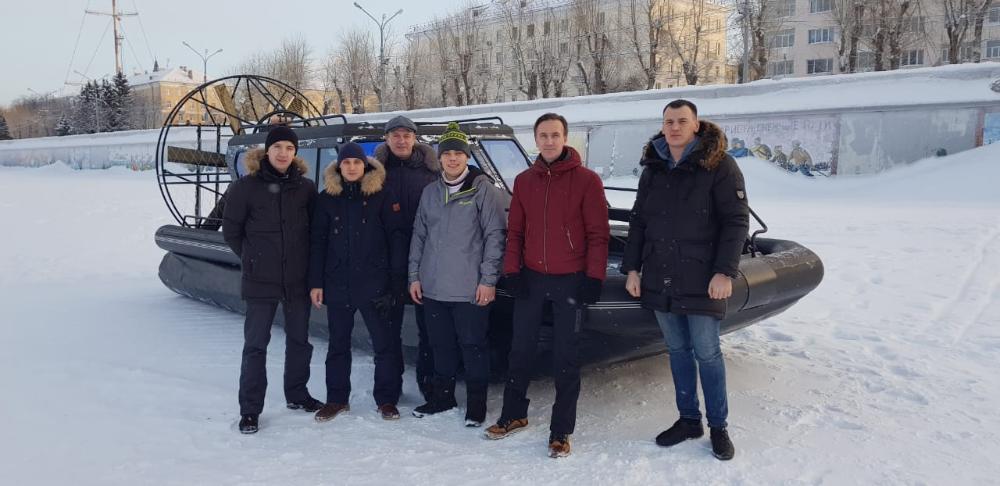 On January 30, Arkhangelsk hosted a meeting dedicated to the use of airboats in the northern territories.
Representatives of local and regional authorities, oil and gas companies, the Ministry of Emergency Situations and the rescue service were invited to the meeting, organized by the regional shipbuilding cluster, OJSC Northern Shipping Company and OJSC Mortekhservice.
Opening the meeting, Director of the Shipbuilding Cluster Sergey Smirnov noted the prospects of airboats as the most suitable form of transport for transporting goods and passengers along northern rivers and coastal sea areas, especially during the off-season, when the water is frozen in ice.
Aero boats can be used for regular transportation of residents of island territories, for rescuing people in emergency situations, for delivering personnel, equipment and materials to remote industrial and infrastructure facilities.
In his speech, Yakov Antonov, General Director of OJSC Severnoye Maritime Shipping Company, noted that for the transportation of people and goods in the conditions of the North and the Arctic, an undersized transport with special performance characteristics: sufficient carrying capacity, the ability to overcome rough terrain, all-weather conditions are required.
The latest models of aero boats presented by the chief engineer of the Krasnoyarsk company "Severboat" Mikhail Kopylov. The range of products manufactured under the Sever brand includes eight options (not counting individual projects). Such airboats can carry up to ten passengers and up to three tons of cargo (for example, a car). Toyota engine allows you to develop speed
on ice up to 100–150 km / h (depending on the model). The body is made of aluminum, propeller - made of carbon, the bottom is protected by a polymer shell.
Over the course of its production history, Severboat has already sold more than 300 airboats in Russia and abroad. The manufacturer cooperates with the Arkhangelsk company "Mortechservice", which is ready to become an official dealer, to provide year-round technical support and repairs. The cost of the Sever airboat is from 2,3 million rubles for a 5-seater model with a 265 hp engine. with. up to 5,2 million rubles for a 10-bed room.
Local transport and industrial companies, authorities, rescue and security units are interested in
is to get reliable and affordable vehiclesuitable for transport in specific northern conditions
- says the director of the Shipbuilding cluster of the Arkhangelsk region Sergey Smirnov.
If the respective models are successfully certified, and the operating costs are profitable enough, this could be a step forward in ensuring the transport accessibility of the island territories.
Currently, the airboat is being certified by the supervisory authorities; there are also plans to obtain certificates for passenger transportation, which can become an effective solution in ensuring transport accessibility of the island territories of the Arkhangelsk agglomeration. In the near future, test tests of the airboat model will be carried out "North 750" in Arkhangelsk.